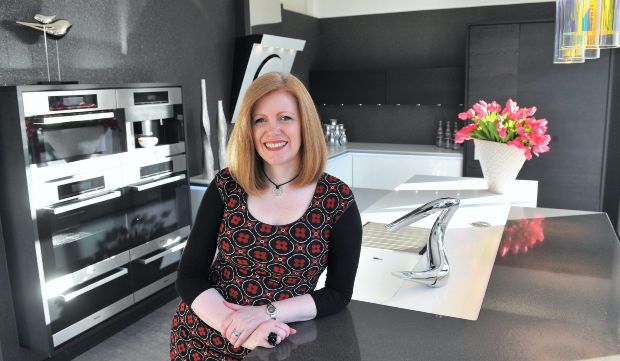 The 2013 KBB Review Kitchen Retailer of the year finalist Diane Berry, also a former winner of the same category, is considered a good example of what a small independent kitchen retailer can achieve with good instincts, design and creative skills and sound business acumen.
Diane Berry Kitchens Manchester are celebrating their 10th year in 2013 Diane Berry Kitchens, an Alno dealer was opened after Diane had already had a long career in the kitchen industry that begin in 1980 and today, from her Prestwich, Manchester kitchens studio, Diane plus her small team of six designers plus support and fitters have garnered quite the local reputation and although her showroom is only 1000 sq/ft, with Diane taking regular part in cooking events, and trade shows her industry profile is established.
Diane`s future plans are ambitious and she has confirmed that in 2013 she plans to undertake the biggest advertising campaign the company has ever done and with the purchase of a new store underway Diane is certainly embracing the ethos of investing in order to grow.
ALNO is Germany's largest kitchen company, renowned for its cutting-edge design and quality manufacture and from ALNO, there is a vast range of designs and colours to choose from, with different height and depth units and many clever storage solutions to boot in order to ensure that every ALNO customer can have a kitchen that meets their individual requirements.
Diane and ALNO share the view that the kitchen is the focal point of the home, and the success to a perfect kitchen is one in which both style, uncomplicated detail and comfort are combined effortlessly to create a beautiful and functional living space. ALNO kitchens are designed to serve the user – not visa versa and their vision it to create a kitchen that fits around you and your lifestyle.
With over 30 years' experience, Diane can assist in all aspects of the work required to design and deliver the dream kitchen.
Diane says of her business ethos: "We are a very caring company and we make sure we're always in communication with our clients to make sure we give them what they want. That means from designing a kitchen to fit a client's lifestyle to working with builders and fitters.
"I want to get it right from the start so clients are happy with the kitchen from day one."