As the demand for handleless kitchen continues to grow, PWS has responded with a 5th colour in its already popular Remo range.  Cashmere is the new finish, a warm tone that is perfectly on-trend for the latest palette of new neutrals.
Andrew Langford, Marketing Manager at PWS, said "We've seen very strong growth in sales of Remo, since it was introduced a couple of years ago, so we were keen to extend the colour choice.  After reviewing a number of options, Cashmere was the firm favourite, sitting in the palette between alabaster and beige. It not only suits the sleek contemporary lines associated with the handleless look but has a degree of warmth, which is particularly appealing for open-plan kitchens."
The Second Nature kitchens Remo gloss range now includes alabaster, beige, cashmere, dove grey and white. The collection features a host of accessories, including the signature barrel curves, which offer a distinctly different aesthetic to other curved furniture available and have achieved registered design status for their original design.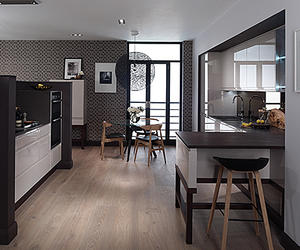 As well as the dramatic barrel curves many other contoured doors and drawer designs are offered in the Remo line-up so the look can include sweeping curves, have a subtle shape or be entirely clean-lined, such is the versatility of the range.
As with the majority of PWS door ranges, Remo has achieved FIRA Gold Award status.
PWS has released a suite of new marketing initiatives for its consumer-facing Second Nature kitchens website, including the original video animation, the +Moodboard app and the online real kitchen of the month competition. This supports the company's strategy to champion the skills of the independent specialist and reinforce the many benefits of buying from this channel.