Continuing our look into the British made kitchen industry, Kitchens Kitchens Editor Jeff Russell talks to leading North West independent Kitchen Kraft once more, about their Avant Beige style of contemporary kitchen from their SN Collection and how business is at present.
Kitchen Kraft have a well established reputation across the North West, not just because of their Smooth Radio adverts featuring Channel 4's Location, Location, Location and Relocation, Relocation presenter Phil Spencer, but this family run business with over 20 years experience have built a business and a reputation based upon high quality installations by an in-house team (not contractors) that has led to 20 plus years of happy customers and word of mouth referrals.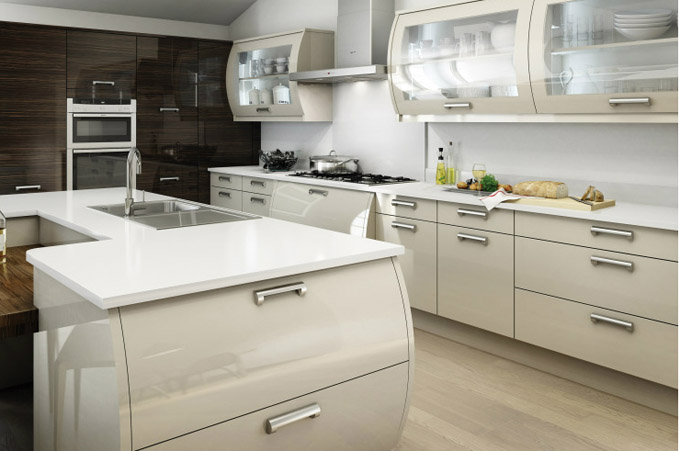 Kitchen Kraft's Irene Hughes from their Kitchen Kraft Northwich studio loves the above Avant Beige style and says it's a favourite with many professional couples owing to its versatile door and storage options.
Irene commented; "The SN Collection Avant door is a lovely style and it's a good example of how well the British kitchen industry has swung back round into favour with many people who have a mid size budget to spend. With Kesseböhmer storage systems, whose products regularly win Europe's top awards for design and innovation you have quality components but it's the Euro styling, offering the best of Italian curves, including oversize Barrel-curved drawer, and the atypical German gloss which garner favour. The Avant doors and drawers are available in Alabaster, Almond, Black, Cappuccino, Ebony, Ivory, a Terra, White and as we are talking about today Beige, and as such you can have a solid colour choice or a mix but include sleek lines and/or concave and convex curves throughout the kitchen with the Avant door whereas with many Italian or German brands available in the UK, its a choice of either one or the other"
Irene from Kitchen Kraft Northwich does seem to be speaking quite accurately in that whilst sentiment at some recent kbb events poured scorn on British kitchen manufacturing, it seems that whilst there will likely always be a market for German made kitchens, (or Italian for that matter) some 92% of all UK bought kitchen furniture is made in Britain and whilst you could certainly have accused MFI of stagnating innovation and investment its manufacturers like PWS who work with businesses like Kitchen Kraft that are swaying the UK kitchen customer back in favour. Whilst 9% of UK bought kitchens are imported, in 2008 the value reached £188m in that year, but then declined significantly year on year to reach just £99m in 2011, and with preliminary reports suggested 2012 didn't fair much better it bodes well for the likes of PWS.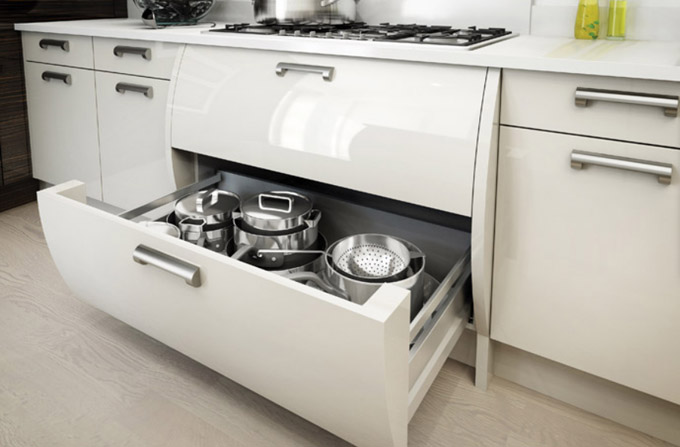 Its fair to say that there will always be customers who will stay true to the stereotype of buying German made and brands like Hacker, Schuller, Nolte, Schmidt, Alno, Poggenpohl and Pronorm have all continued to stay true to their customers and deliver quality products but the same cant be said for one of the most popular brands Nobilia and whilst Kitchens Kitchens attended all the Euro brands open houses in 2012, its what's happened in UK retail that has had more of an impact on the demand for Nobilia's mid market products that will be interesting to see how it plays out.
We are of course talking about Homebase and the rebranded Nobilia / Odina Kitchens that seem to have gotten more negative online comments in respect of poor product knowledge, poor customer service, incorrect and delayed ordering and poor fitting than any other German brand and its hard not to think that Homebase has some how cheapened the Nobilia brand somewhat?
Whilst Irene Hughes wouldn't comment directly on Nobilia she thinks that one of the biggest gripes customers have is poor fitting and after sales;
Irene commented, "It's not polite to talk disparagingly of another [competing] business so I'm just speaking generally here, but it's a well known fact that one of the most common complaints in the kitchen industry is in terms of the fitting. You can have the best kitchen furniture, be it British, German or Italian made, but if you employ a poor fitter you get a poor kitchen and no amount of manufacturing can entirely overcome this issue."
She continued. "…and its one that whilst the Germans have sought to address with easy to fit kitchens, it still doesn't eradicate the issue altogether and one reason why we at Kitchen Kraft only use our own, full time, in-house installation team."
Kitchen Kraft, is a Second Nature and Metris kitchens dealer plus a Master Siemens Partner and they have a special offer in place from July 1st with up to 60% off Siemens appliances plus a free Siemens dishwasher in conjunction with sales of their kitchen furniture. See in store, click the image below, or call 0800 018 0009 for further details.