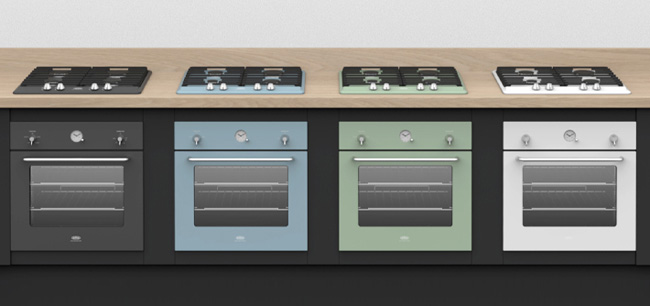 Kitchens Kitchens spoke to Jordan Green of Designer Kitchen Furniture, Manchester for his impression of the kitchen appliances from Belling by Sebastian Conran.
Green said: "Although we have a Colour Palette of over 6000 colours from the likes of Fired Earth &, Farrow and Ball, we can Colour Match any colour that we are given a sample of so that our customers can have, any style of kitchen, bespoke in any size and shape and in any colour but for those customers who want to continue their colour choices into their appliances their options are limited and its brands like Belling that are pushing the boundaries to give consumers more choice, and that can only be a good thing."
Sebastian Conran worked with the Belling team to create this range of built-in cookers, hobs and extractors bringing a classic but cool feel to a thoroughly British brand. The fully-featured range of built-in ovens, gas and ceramic induction hobs and cooker hoods perform to highly modern standards, but with a timeless look and feel and as Green comments, beyond stainless steel or black, colour choices in the appliances sector are limited and so brands that introduce a bit of colour may not necessarily lead the industry but carve out a niche for themselves that some consumers love.
The Sebastian Conran appliances, in addition to the colours, also feature real metal controls (a first for Belling), continuous cast iron pan supports creating a single work surface and a programmable analogue clock, that are all small but functional innovations that create a more enjoyable end experience and its these little touches that often endear the consumer to make the decision to buy.