Also known as engineered stone or quartz, Composite worktops are made from a manufactured material of natural quartz bound with resin. Like stone, it's very strong, heat and stain-resistant and common brands include Silestone and Zodiaq.
Here is an article from Beautiful Kitchens and House and Home magazine on their top 10 Composite Worktop choices.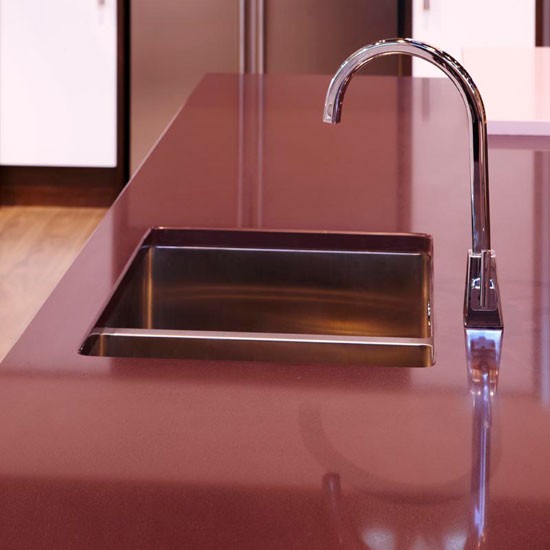 Zodiaq (shown  above) is made from 93% natural quartz with resin and pigments for a strong worktop material. Shown here in Mulberry, it makes a highly durable kitchen worktop and has a lasting low-maintenance finish that needs no sealants or treatments. A Zodiaq composite worktop costs from £310 per linear/m, by DuPont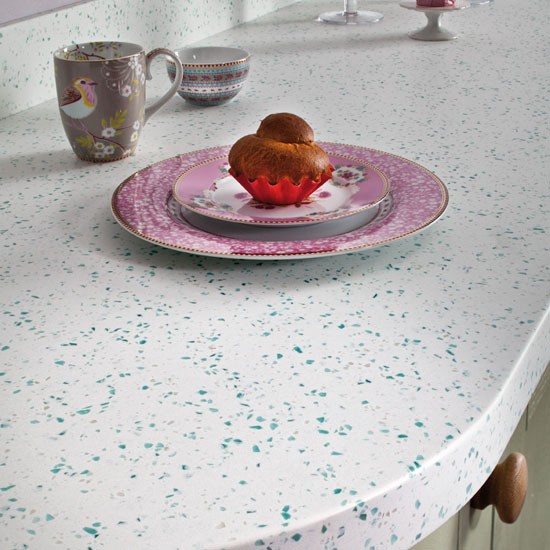 Bushboard's Encore (shown above) solid surface is made up of a 5mm solid acrylic surface on a 38mm chipboard core and comes in a choice of 14 colours, shown here in Crystal Glass. The material can be shaped into curves and is hardwearing and easy to clean. An Encore composite worktop costs from £178 per linear/m, by Bushboard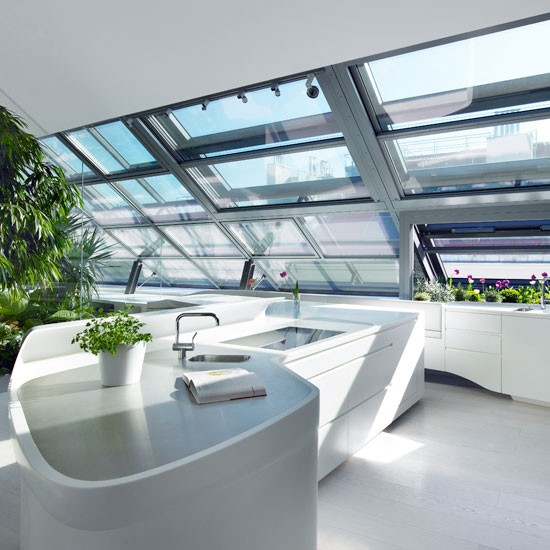 Made from a mix of minerals, acrylic and pigments, HI-MACS surfaces can be moulded to encase cabinetry, and are available in more than 70 colours and effects, shown here in Alpine White in a FAB kitchen. A HI-MACS composite worktop costs from £300 per linear/m, by LG Hausys and our a popular choice with customers buying German kitchens.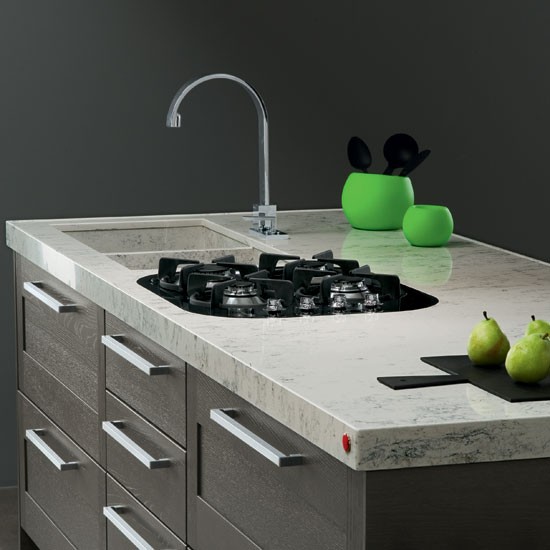 As well as being resistant to stains and scratches, Okite has a natural stone appearance. This Venati worktop is characterised by its veined marble effect. The Venati composite worktop costs from £175 per sq/m, from Okite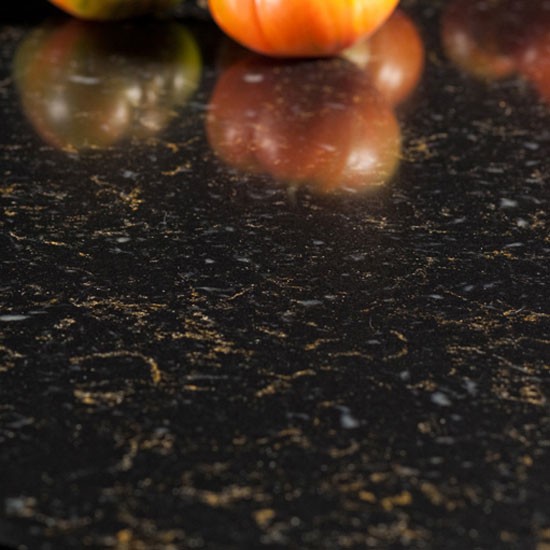 Made from over 90% natural quartz crystals, Silestone has in-built anti-bacterial protection and has a high resistance to scratches, staining and heat. Shown here in Doradus, the Nebula Collection is available in six colours and polished or matte finishes. A Nebula composite worktop costs from £400sq m, from Silestone and are perfect for modern kitchens.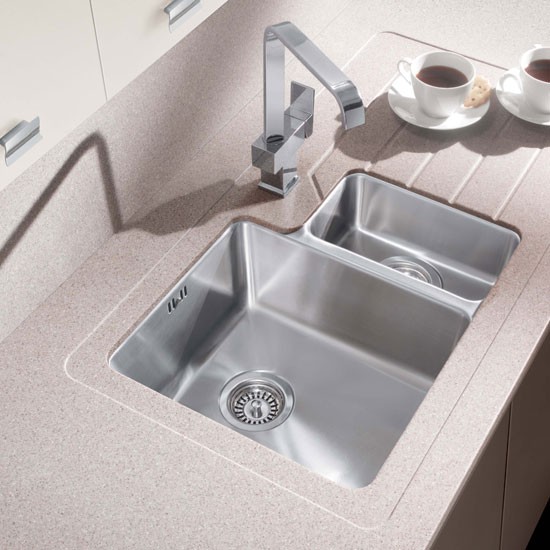 Maia worktops are available in 10 designs ranging from pure white to Galaxy black and are durable and heat resistant. The surfaces can be repaired if damage occurs. Shown in Latte,  Maia costs from £165 per linear/m.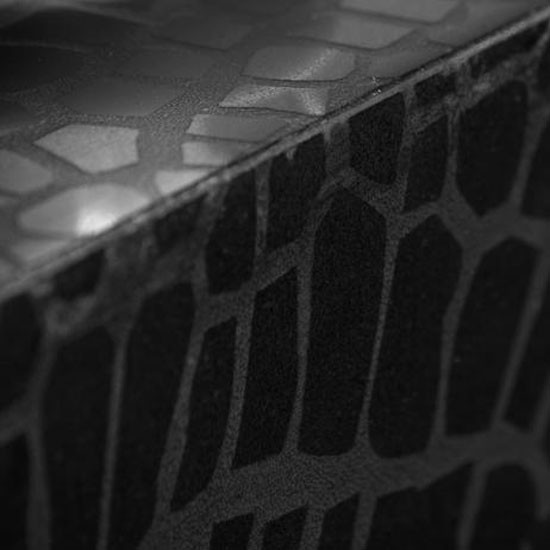 CaesarStone is made from quartz and comes in more than 30 colours. The unique Motivo worktop, shown here in Jet Black Croc, has a textured finish for added wow factor. A Motivo composite worktop costs from £230sq m before fabrication, by CaesarStone.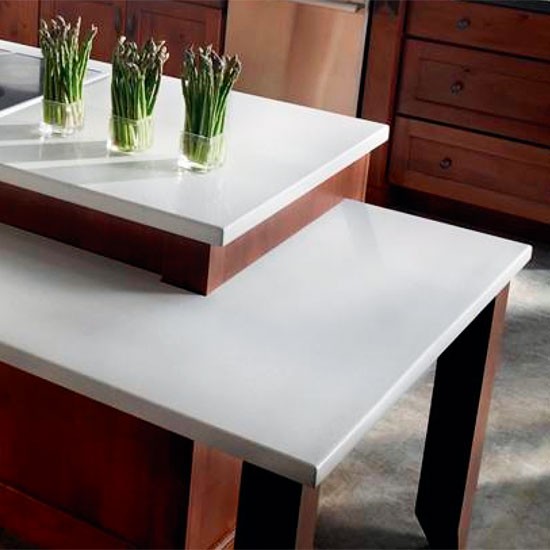 Magnet's eco worktops are made from recycled natural materials, including mirror, porcelain sinks, baths and tiles and are bound together using an eco-friendly resin made from corn oil to create 10 different colours and styles. Eco worktops start from £500 per linear/m, by Magnet.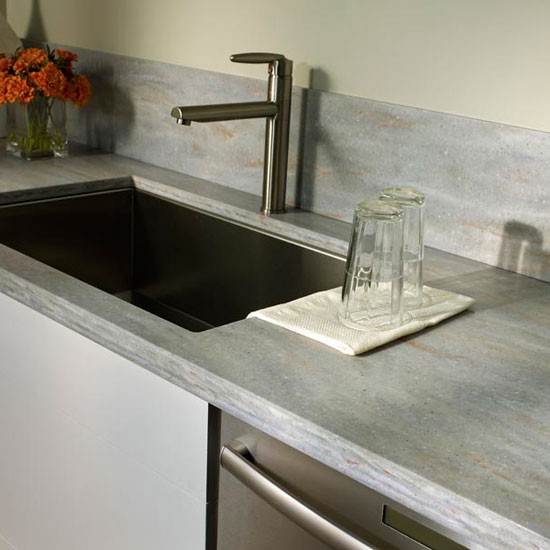 Corian is a versatile solid surface that is stain-resistant, hygienic, durable and renewable. Shown here in Juniper, it is available in over 70 colours and can be shaped into almost any conceivable design. A Corian composite worktop costs from £310 per linear/m, by DuPont.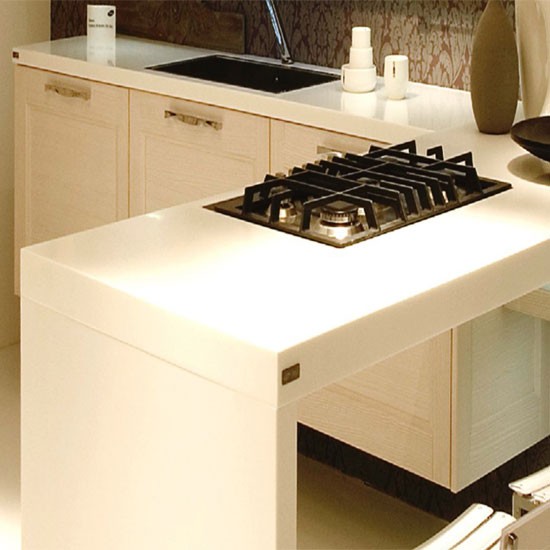 Available in ten colours, Fortis worktops from Staron are hygienic, non-porous and stain proof. Seamless joints allow integrated sink modules and hob bars, while a smooth finish makes the kitchen surfaces easy to clean and maintain. A Fortis composite worktop costs from £252 for a 150x65cm length, by Staron.
Looking After Composite worktops – It's non-porous, so doesn't need sealing. Just wipe clean and avoid putting very hot pans directly on the surface.
Pros: Available in many colours and finishes, and different looks such as imitation granite and marble – but is cheaper. Very easy to look after..
Cons: Very heavy and seams are visible – but hardly if it is installed well.
About Beautiful Kitchens Magazine
Launched in 1999 (originally as 25 Beautiful Kitchens), this glossy magazine is dedicated to providing inspiration, ideas, planning and design information and appliance choices to anyone looking to create a fabulous new kitchen. Packed with real-life case studies, the magazine looks at every aspect of the kitchen planning process – from how to choose the style for you, whether it's chic contemporary or cosy country – to finding the designer to make your dreams a reality.