The short answer is NO. At Kitchens Kitchens we get a lot of questions about various kitchen brands and one we have been having a few enquiries about is the Metris brand, which advertises itself as a German kitchens brand.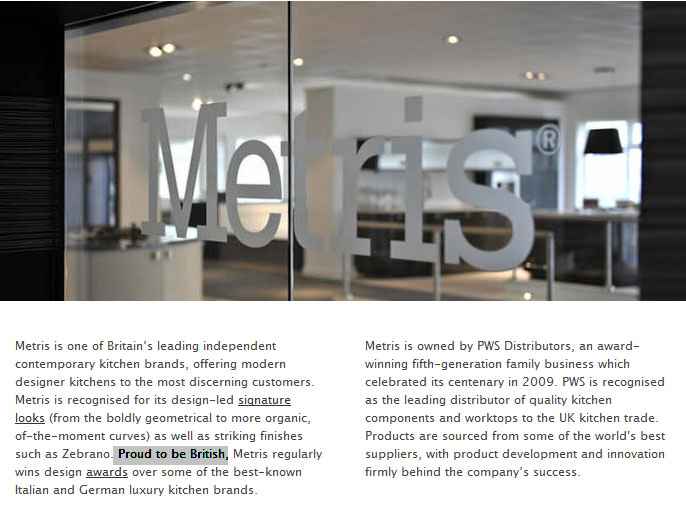 However, despite the price positioning which seems to be around the £25,000+ mark and the references to offering "German kitchens", the text on their website says:
Metris is one of Britain's leading independent contemporary kitchen brands, offering modern designer kitchens to the most discerning customers. Metris is recognised for its design-led signature looks (from the boldly geometrical to more organic, of-the-moment curves) as well as striking finishes such as Zebrano. Proud to be British, Metris regularly wins design awards over some of the best-known Italian and German luxury kitchen brands.
Metris Kitchens are owned by PWS Distributors, an award-winning fifth-generation family business which celebrated its centenary in 2009. PWS is recognised as the leading distributor of quality kitchen components and worktops to the UK kitchen trade. Products are sourced from some of the world's best suppliers, with product development and innovation firmly behind the company's success.
Indeed, PWS which also has the Second Nature brand is one of the UK's biggest kitchen manufacturers (not German) so its begs the question as to why its identifying itself as a "German kitchen" brand?
And herein lies the distinction, German Made and German Styled are two entirely different propositions but considering the pricing point that Metris is positioned at, you could have a German made kitchen from Nobilia, Hacker, Schuller, Alno, Nolte and a few others, and for a little extra then look at the likes of Poggenpohl and when you consider that what makes a German kitchen a truly German one is the engineering, components and manufacturing why have a Ford Mondeo made to look like a BMW 3 Series for the same money when you can buy the BMW and its badge for the same money anyway?
Not to knock Metris Kitchens but we feel it should be focusing on the terms "contemporary" and less on the "German" as when consumers click on the website looking for "German kitchens" and see that the kitchens are not as advertised, and distinctly lacking a German brand name, they aren't likely going to be swayed?