In a devastating U-turn it has emerged that all KBB showrooms in England must now lock their doors to the public, under the new government rules.
Much of the Kbb sector has been on its knees since the start of Covid, whilst some independent retailers and installers have luckily seen a surge in trade as people have invested in homes improvements amid the lockdowns and lack of travel combined with more home working, but the latest news is a huge blow to the Kbb sector.
The day before the lockdown began – on November 4th, government direction given to the KBSA was that KBB showrooms could stay open, as they are classified as building suppliers.
However, the government has now backtracked on its initial direction and according to its official online guidelines the list of retail businesses that must close specifically now includes "showrooms open to the public for products used in homes, including bathrooms, kitchens and glazing".
The KBSA has confirmed the sad news, saying it believes the guidelines were updated on November 16th and that it is now advising kitchen and bathroom showrooms in England to close and follow government advice.
Reactions to the news has been mixed as whilst some are hoping that the change and forced closure will open up more Covid support to them, others have been trading well.
Kitchens-Kitchens spoke Mr Swift, owner/director of North West German Kitchens specialist JWK, who sell Schuller and Next 125 Kitchens.
Mr Swift said, "Typically November and December are not as high performing months as you see from January through May but they are considered prime research months were homeowners will plan for a new kitchen and then proceed in the new year."
Swift added, "However, with Covid, the first lockdown and a brief summer travel corridor, demand has been high and we've seen demand spill over into the autumn months, partly fuelled by a lack of supply opportunities earlier in the year, during the lockdown. Whilst we will follow the guidance, as we have throughout, it is incredibly frustrating as we made our showroom available by appointment only, we had invested in a rigorous cleaning protocol after each showroom appointment and all our staff wore PPE throughout whilst also respecting social distancing."
When Kbb independents such as JWK Kitchens have been taking so many health and safety precautions and the demand is there, you do have to question that whilst you can wonder around a supermarket with hundreds of other people, all breathing the same air, touching the same volley handles, baskets, putting products back on the shelves etc, that having a large open plan Kbb showroom to yourself, which is then cleaned after each appointment is surely far safer than a supermarket?
It seems that essential retail has trumped 'safe and responsible' retail as many small independent clothing and other non essential retailers have implemented similar measures, limiting stores to one person, or by appointment only.
Like imposing a national lockdown when half the country were still in Tier One Covid measures, the latest blanket ban on all Kbb showrooms and businesses, regardless of whether they have adequate Covid measures in place (or not) only seeks to enforce the notion that, with Covid being with us for some time yet, a more considered approach is now needed as we can't keep implementing national lockdowns when the evidence was there, as in Liverpool, that the Tier 3 measures were working. On Nov 4th, the day before lockdown, Liverpool had gone from having the highest R-rate in the UK a month earlier, to the second lowest, clearly demonstrating that the Tier 3 measures had done their job. Yet the lockdown still went ahead.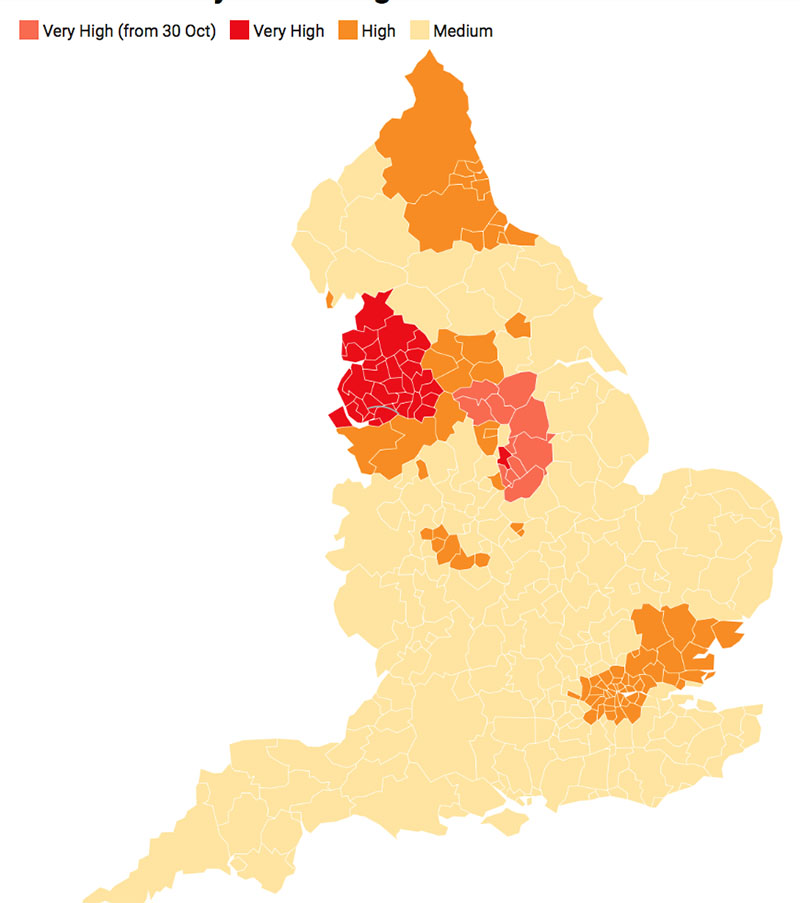 On the latest measures, the KBSA national chair Richard Hibbert said: "It is regrettable that showrooms must close but it is welcome that the guidance is now very clear and we have a level playing field for all kitchen and bathroom retailers.
"We have advised our members of this change and have also reassured them that we will continue our efforts to ensure that the level playing field is maintained. We are aware that some showrooms such as Wren and Magnet are still open, and are continuing our dialogue with BEIS and Trading Standards to address this and protect our member's interests.
"This change only applies to showrooms in England. In Wales showrooms are currently open and in Scotland, where they have a five-tier system, showrooms in all tiers can also remain open."
The guidance goes on to state that "all premises, whether or not required to close, can be accessed by the site owners or managers, staff or people authorised by them for the purpose of maintenance, repairs or other work to ensure readiness to reopen at a point where this is permitted, such as receiving deliveries of supplies."
The guidelines also confirm however, that Kbb installations can continue, providing they follow the safer working rules.