Whilst some kitchen companies will try and claim that their kitchens are bespoke, at best some offer personalisation, whereby standard kitchen furniture is configured into a design, that granted is somewhat individual in that it's the only kitchen using that many standard units, however many standard 'bought in' doors, and using bog standard unit dimensions, but should another person have the same tastes and room size you can bet, just like off the peg clothes, someone else is bound to have a near identical product.
So then, off to Manchester and Designer Kitchen Furniture from local businessman Jordan Green, who has created somewhat of a niche segment of the UK kitchen market for himself, and one that is delivering some great looking designer kitchens as this case study clearly shows.
Designer Kitchen Furniture, is a truly bespoke kitchen company and their ethos is Any Kitchen, Any Size, Any Colour, and by using a combination of handcraftsmanship and modern on-site manufacturing, Jordan's kitchen company can offer truly bespoke kitchens, but without the price tag of say Harvey Jones, Plain English and Clive Christian.
Kitchens Kitchens spoke to Jordan about his client from Hale, Greater Manchester, which is a popular and wealthy location, a few miles outside of Manchester city centre and a suburb popular with high flyers and football players.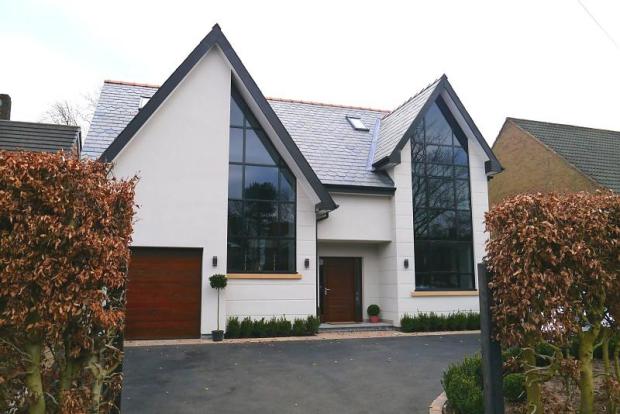 As you can see from the photo of the house exterior, this large detached property would be at ease on an episode of Grand Designs, and as such, the calibre of kitchen Jordan's client wanted had to be very high.
"Because at Designer Kitchen Furniture we have our own manufacturing facility we are in a fantastic position to offer bespoke, designer kitchens but without the £60,000+ price tags normally associated with the bespoke kitchens from other brands", mentions Jordan.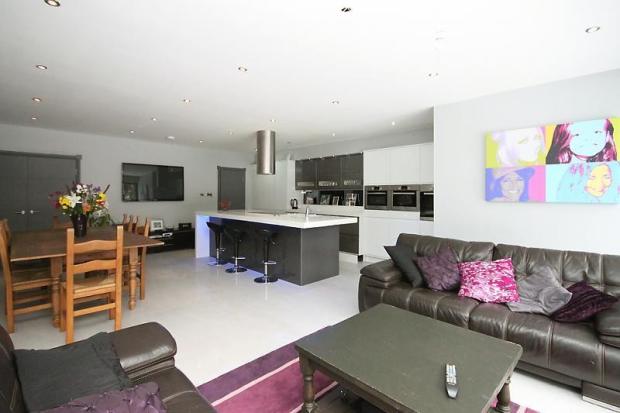 "The above photo just illustrates the available space we had to work with for our clients bespoke kitchen and we felt that an open plan kitchen would be perfect for this room layout and would help create the perfect living space. The available space also meant that we could design and install a large kitchen island that didn't make the room feel cramped or claustrophobic and aside from the dining table (which we didn't figure into our design or indeed supply btw) all of the kitchen furniture was made onsite at our Stockport factory and head office"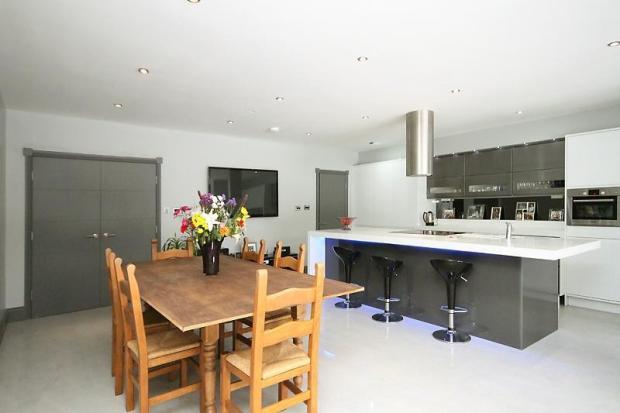 Jordan continues, "The kitchen furniture in this design is a mix on J-pull handle-less kitchen doors in white gloss and Titanium metallic, with the Titanium metallic being a unique colour to ourselves and with matching Titanium metallic decorative panels to the island and contrasting white 100mm Corian work surfaces, this kitchen is a lovely example of how a monochrome kitchen can look, and one that both ourselves and the client are very proud of. So much so, the client is commissioning us for his next home."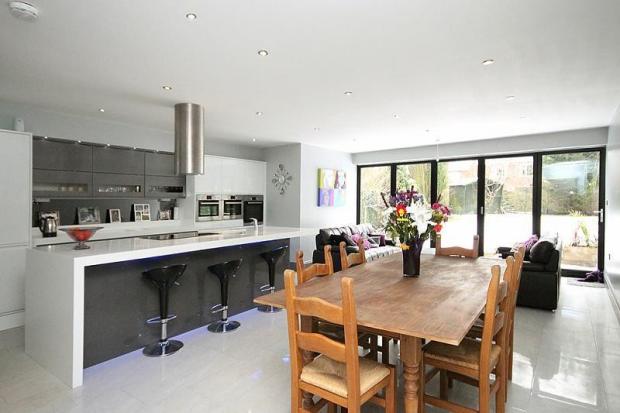 "We completed this open plan kitchen with Titanium metallic letterbox doors and a Franke stainless steel tube extractor plus Bosch appliances, including a steam oven, combi microwave, pyrolitic oven, and 90cm induction hob. Cooling and refrigeration was integrated into the white tall larders to the left of the main kitchen run and in addition to two cooling appliances the third tall larder offered pull out storage, which was amble for the family and entertaining needs."
Jordan finished talking to Kitchens Kitchens by saying, "I must add however, that whilst this case study was exactly what this customer wanted and required, our design process is consultative, and as such, each and every one of our customers gets the bespoke kitchen hey truly want and need so as out ethos suggests, we really can cater for any style, and size, any shape and any colour."
If you like what you see here or want something different but truly bespoke and unique for your own kitchen then give Designer Kitchen Furniture a call on  0161 480 5805 or click their logo image below: